관리자
10 Sep 2021
Views 457
1. Introduction
1. Introduction
Dengue fever is a infectious disease caused by mosquito with dengue virus that bite a person, and is an acute febrile diseases accompanied fever.
Due to a sudden high fever, this fever lasts for 3 to 5 days and can lead to heart burn sense, muscle pain, joint pain, and loss of appetite. Sometimes red spots can appear thought out the body in the early stages. As the fever drops, skin rashes continue for 1 to 5 days all over the body, and initially millet-shaped rashes appear temporarily on the neck, and chest, and then spread to the arms, legs, and face starting on the 3rd to 4th days. Minor bleeding, such as nose bleeding or gum bleeding, can occur during the course of the disease. Adults may experience bloody stool, menstrual results, symptoms of lymph node edema surround the neck area.
This experiment is reverse transcription polymerization appeal chain reaction analysis method used to detect Dengue viruses. Four types of Dengue viruses can be identified by extracting RNA from dengue–suspecting serum, synthesizing the nuclear acid of Dengue virus through reverse transcription, and amplifying the polymerase chain reaction using one forward primer and four reverse primer pairs.
2. Materials and equipment
2. Materials and equipment
Materials
2X buffer, Enzyme Mix, Primer Mix, Dengue RNA (Dengue fever virus RNA), Agarose gel, TAE or TBE buffer, loading dye, DNA ladder (100bp)
| | |
| --- | --- |
| Forward primer | TCA ATA TGC TGA AAC GCG CGA GAA ACC G |
| Reverse primer (Type 1) | CGC TCC ATT CTT CTT GAA TGA GC |
| Reverse primer (Type 2) | CGC CAC AAG GGC CAT GAA CAG |
| Reverse primer (Type 3) | TAA CAT CAT CAT GAG ACA GAG C |
| Reverse primer (Type 4) | TGT TGT CTT AAA CAA GAG AGG TC |
Equipment
Conventional PCR (ex.DuxCycler-바이오메듀스)
DNA Electrophoresis (ex.DuxGeldoc- 바이오메듀스,한국)
3. Procedure
3. Procedure
1) The composition of reaction tube for RT-PCR is as follows (for one sample):
| Reagent added | tube |
| --- | --- |
| Template RNA | 4uL |
| 2X buffer | 10uL |
| enzyme mix | 1uL |
| primer mix | 5uL |
| Total | 20uL |
2) Except for template RNA, mix the above 2X buffer, enzyme mix, and primer mix by the number +1 to be tested and put 16uL into the PCR tubes
3) Add the extracted template RNA 4uL to the tube.
4) After spin down in each mixed solution tube for 30 seconds, put it in a PCR device and react as follows.
Steps
Temperature
Time (min.)
Cycles
cDNA Synthesis
50℃
30:00
1
Pre-Denaturation
95℃
15:00
1
Denaturation
95℃
00:30
40
Annealing
60℃
00:30
Extension
72℃
01:00
Final-Extension
72℃
05:00
1
End
4℃
∞


4. Results
4. Results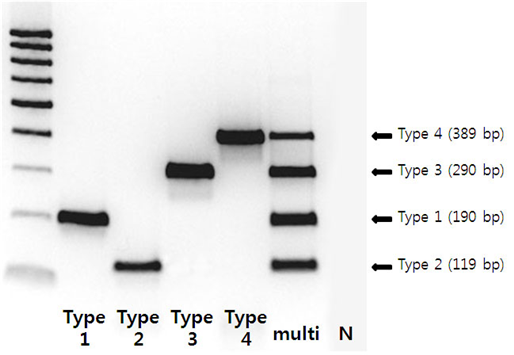 Genotypes
PCR amplification
product size
Type 1
190bp
Type 2

119bp
Type 3

290bp
Type 4

389bp
5. Precautions
5. Precautions
1) Pay attention to pipetting so that DNA and/or PCR reagents do not become contaminated during the experiment.
2) The experiment should be conducted carefully so that the temperature or reagent amount is not different from the testing method.
#Dengue virus #Gangue fever #RNA # reverse-transcription PCR


---